Overview
To the person with emotional problems or an individual dealing with a number of behavioral problems, life's challenges may seem insurmountable. Our Adult Mental Health Treatment Program specializes in treating adults 18 and older who are experiencing acute mental illness.
From the initial mental health assessment to our team approach to treatment, we provide an individualized program for the intensive treatment of mental disorders. Services are provided in a 18-bed secure inpatient unit in our Mental Health Services building located on the Columbus Regional Health campus.
To make a referral or for more information on our mental health services, call 812-376-5811 or toll-free 1-800-266-2341, 24 hours a day, seven days a week. Referrals to our inpatient mental health services unit are welcomed from psychiatrists, physicians, social service agencies, mental health professionals, or group, residential and nurse home facilities. Our trained staff can assist you in determining options. For community-based, outpatient mental health services, services are offered by Centerstone for the greater Columbus community.
Our inpatient mental health treatment program has several components to help people get maximum relief from the symptoms of their mental illness. The first step is a thorough mental health assessment by each member of the treatment team. These staff members include a psychiatrist, a social worker, a registered nurse, and a recreational therapist. In addition, an internist or family practice physician will complete a physical examination to identify any potential medical problems that may be contributing to the mental illness. Other mental health assessments may also be ordered depending upon each individual case, and might include a physical therapy assessment, psychological testing, or food and nutrition assessment.
All of the information that is gathered in each of the assessments is reviewed and summarized by the treatment team. Then a plan of care specific to each patient's circumstance is developed by the team with input from the patient and significant others as appropriate. This treatment plan lists what the goals of treatment will be for the patient and what the treatment team members will do to assist the patient in achieving those treatment goals.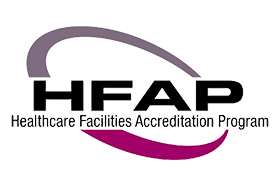 We are fully accredited by the Healthcare Facilities Accreditation Program (HFAP).