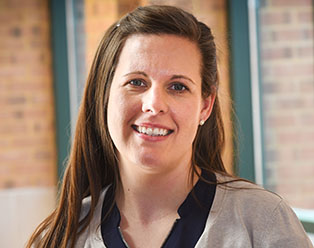 Make an Appointment
812-378-7474
Accepting
New Patients
Specialties
Psychiatric Mental Health
Physician Group
Rau Family Medicine
Contact
812-378-7474
Location
3201 Middle Road
Columbus, IN 47203
Get Directions
Education & Training
Education IUPUC
Angela "Angie" Nielsen, PMHNP, originally began working for CRH in 1999 in accounting. She graduated from IUPUC with a BS in Psychology in 2003. That same year, she began working on the CRH inpatient psychiatric unit. While there, she worked in several positions including a Mental health Technician, LPN, RN, and eventually worked the last several years as Patient Care Coordinator.
She graduated with her Master's Degree in Nursing in 2016 and transitioned from inpatient work to outpatient work at CRH. She now works as a Psychiatric Mental Health Nurse Practitioner in an outpatient setting located within Rau Family medicine.
She has worked with individuals with chronic and severe mental illnesses such as schizophrenia as well as individuals with acute anxiety and depression issues. She also works with many individuals with different types of substance use disorders as well. She has a passion for working with individuals with mental health concerns and strives to provide patient-centered, evidence-based care.
Back to Search Results